WIDMER NEW N-3 NUMBERING STAMP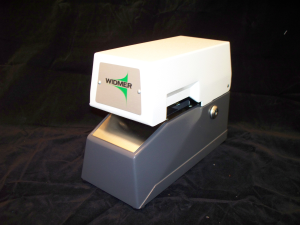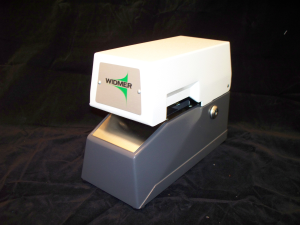 WIDMER NEW N-3 NUMBERING STAMP
Normal Retail Price: $710.00

This machine can quickly and conveniently sequentially number documents and imprint fixed text information. The conventional printing head has 6 wheels. Consecutive action will advance with each stamping. Available with either consecutive , duplicate, triplicate, or quadruplicate action (but not a combination of these) - any combination of number, letter and dash wheels up to 11 wheels. (Wheels in excess of 6 wheels must be advanced manually). Can be furnished with repeat switch and guide platforms available for special print locations. Full manufacturer's warranty. The price also includes a FREE text plate (a $40 value). Questions?... Email us at sales@protectedimages.com.

PROTECT YOUR PURCHASE...Our 2-Year Extended Warranty covers emergency repairs and maintenance of your machine. 24-hour response time is guaranteed. Call with the problem and we will fix it by phone, send out replacement parts, or offer a free loaner until we can get your equipment back from repair. Cost for this service is only $150.00. Add the warranty to your cart here.

IMPORTANT:
Upon placing your order online, you must also download the CUSTOM TIME STAMP ORDER FORM. Please click the above link, print, complete the form, and fax into our engraving department.